Remembering a Day that Changed the World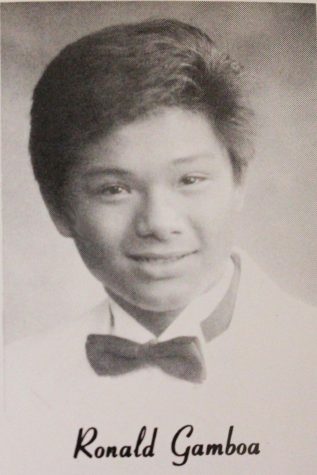 Twenty years ago this Saturday, the world stood still as planes piloted by terrorists took down the World Trade Center towers in New York City, attacked the Pentagon, and headed for Washington, D.C., before crashing in Pennsylvania. Thousands lost their lives in the attacks. 
Trinity President Dr. Rob Mullen reflected on that tragic day:
Attached is an article I wrote for the October 2001 Parent Newsletter. You will see that it recalls what was happening on campus that fateful day and some days after.
Twenty years later the events of that day are still present to me.
I often think of Ron Gamboa, an alumnus from 1986 who, along with his partner David and their son, were on one of the planes that hit a tower. I wonder how much they knew was about to happen. I hope nothing.
A memorial to Ron sprung up at the rock on Shelbyville Road. All that week people would stop and leave a bouquet of flowers, an American flag, or get down on their knees and pray. We hosted a service for him that Friday evening that was attended by his family and 400 others.
I remember the CelebraTion benefit dinner in 2002 where a financial aid scholarship was established by patrons in his memory. Another student benefits from this fund this year.
At every home football since 9/11 we have sung God Bless America and America the Beautiful in remembrance. We will do so again this Friday night.
I notice in movies and old TV shows when the Twin Towers appear in the background.
When I go through airport security, I remember how it was before Homeland Security changed things.
When I am downtown and see a plane coming in low over the city, I remember.
Prayers for peace continue.
 *****
This is the Leader article that appeared that winter:
 The terrorist attacks of September 11 have affected us all in some way.
 The tragedy was felt at Trinity High School with the loss of alumnus Ronald L. Gamboa '86. Ron, 33, was aboard United Airlines Flight 175 from Boston to Los Angeles, when it was hijacked and flown into the Wo r l d Trade Center in downtown Manhattan. He was returning to his home in Santa Monica, Calif., after vacationing in Boston and Cape Cod with his partner of 14 years, David Brandhorst, 42, and their 3-year-old adopted son, David.
 Drs. Renee and Ranulfo Gamboa, Ron's parents, learned of his death at 6 p.m., when a United representative phoned their Anchorage home. "It was just sheer waiting and crying," Renee Gamboa told The Courier-Journal. "I just kept calling and calling and calling. Calling his phone. Calling United. Calling my friends, because I had a friend that has a daughter that works for United, and I was just trying to find out if they knew the names." The last time the Gamboa family saw Ron was over Labor Day weekend, when family and friends had gathered at the Gamboa home. Ron promised he would return September 21 for his parents'38th anniversary, she said.
 As the week unfolded and the pain of the tragedy spread across the country, a memorial shrine for Ron began to form alongside the Rock in front of Trinity's Steinhauser Gymnasium. Friends, neighbors and citizens placed flowers, notes of sympathy and faith, American flags and other items around the Rock. A memorial mass was held at Trinity's Convocation Hall on F r i d a y, September 14. More than 400 people attended, including the Gamboa family, members of the local Filipino community and Trinity alumni, faculty and students. It was a telling reminder of the fragility of life and the support of the Trinity Family. Trinity chaplain Father David Zettel '58 celebrated the mass.
 Ron was born in the Philippines and had come to the United States with his family when he was 6 weeks old. As a Trinity student, Ron was active in campus life. He participated in the Spanish Club, the Pep Club and Intramural Sports. He was also involved in community service, the Special Olympics and S.A.D.D. (Students Against Drunk Driving). Ron was a member of St. Albert the Great Parish. After graduating from Trinity, Ron earned a degree in business administration from Rutgers University.