Sophomores Make Connections During Retreat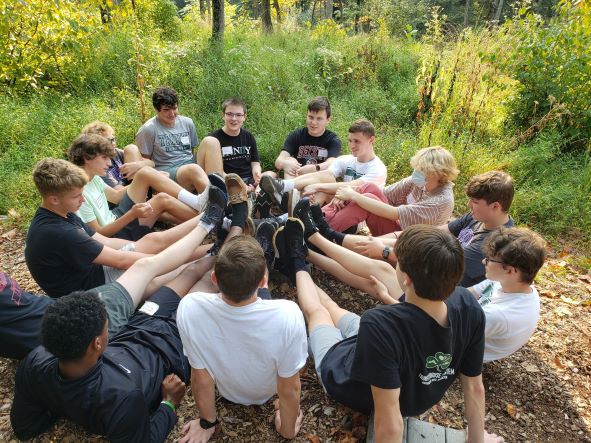 Throughout this week each member of Trinity's Class of 2024 will spend a day at Cedar Ridge Camp in Jeffersontown furthering connections with other sophomores.  The full day off campus, coordinated by Campus Ministry (Mr. Chris Luken and Mrs. Mary Emrich) will include small groups led by Cedar Ridge facilitators and Trinity faculty.
Sophomores will attend by House on these days:
September 13- Aquinas and Becket
September 14- Dante and Flannan
September 15- Gonzaga and Merton
September 16- Patrick and Romero
September 17- Seton and Toussaint
Trinity teacher Mrs. Betsy Darby assisted with Monday's retreat, which included sophomores from Aquinas and Becket houses.
According to Darby, "Students traveled to Cedar Ridge to participate in a low ropes course and an activity sponsored by the Anti-bullying Committee and Campus Ministry.
When asked what were some of the lessons they learned, students in Darby's group said, "When working as a team, it is important to communicate, listen to each other and lend a hand when someone is struggling."