A Path to Inner Peace
Even in normal times, stress can overtake a person's day-to-day life. For many, the past 19 months of coping with Covid-19 have added new layers of stress.  Trinity's Inner Peace Club offers ways to deal with rising stress levels.
The Inner Peace Club was founded by Trinity theology teacher Mr. Scott Holzknecht. Following his time as moderator, Holzknecht turned over the club leadership to theology teacher Mr. Bernie Schum, who has moderated the group for the past four years.
Schum did not seek leadership of the club; instead, students sought him out, saying he would be a great fit.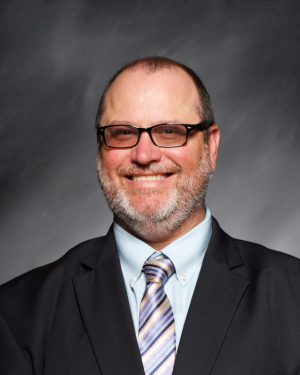 Schum said, "This club helps Trinity students calm down and rest, and in doing so, they can help anxiety, and stress levels lower."
During meetings in the Trinity Chapel, Schum puts on music, dims the lights, and reads scripture while students lie down to relax. The reading lasts about 30 minutes and takes place once a month during morning advising. Although meetings normally include scripture, Schum sometimes plays music and allows students to relax without a reading.
Senior Max Dickens is among a good number of students who take part in the Inner Peace Club.  He said, "A lot of my friends were doing it, and they said it was a great experience — so I decided to join. It's enjoyable."
Dickens has found more than just relaxation during the club's sessions. He said, "Meeting new people definitely is fun — and learning more about God and myself."
During the time students have struggled with Covid-19, the club's attendance has skyrocketed. Schum said attendance numbers are great, and he is glad students are embracing the club.
Schum said, "In our society there is often an aversion to silence and rest. New students sometimes come in antsy and think of the club as a joke, although nearly always students come back, and more often than not, they become full members."
Students sometimes joke about falling asleep during meetings, but Schum thinks of rest as a good thing.
He said, "Sometimes rest is necessary. That is the peace part, right?"
Schum teaches students how to calm themselves both inside and outside the classroom. He tells students they don't need strict meditation, and they can find other ways to gain peace within themselves.
Students often find that in the right environment rest, music, and sleep are the most calming practices. Schum highly recommends slow and controlled breathing to reduce the heart rate.
He suggests this approach because it is simple and can be done at any time and place. During club meetings, the guided meditation allows students to  follow along with a simple story, putting them in a relaxed state.  Schum said meditation should be done in moderation, approaching the techniques responsibly.
Schum said, "Dreams are where you work out a lot of these inner tensions, and we provide that in a focused, harnessed, scripture-based exercise."
Although students may not tell their friends how much the meditation helped, they often come back to a second meeting and tell  Schum how much the previous experiences assisted them in life.
Schum said students often show their gratitude for the club by telling him things like "That was awesome, and can we do that more often?"