Art Intersects Math in this 'Amazing Pi' Author's Life and Classroom
Few people are able to combine a passion for mathematics with a love of writing. Over the course of the pandemic, however, Trinity teacher Ms. Carol Comstock did just that. She is now a first-time published author and illustrator of a book called "The Most Amazing Pi."
The book focuses on the symbol pi, where it comes from, and where it can be found in the world. Comstock's e-book is available for purchase on Amazon.
Comstock said, "It's a children's book. I just thought, there aren't many children's books out there that deal with numbers other than counting one to 10. I thought there just needs to be something else out there."
With this book, she wanted to bring to light other aspects of math to young children. Comstock has taught at Trinity since 2008, but her journey to publishing her first book began earlier.
Fifteen years ago, Comstock had just an inkling about publishing a book. While reading about one of her favorite authors, Comstock came across an inspiring point: "(The author) said, 'Don't wait; you just need to do it and jump in.' And that's exactly what I did."
Comstock began to brainstorm ideas and started the project that summer. She put countless hours into the drawings, some of which are displayed in her classroom.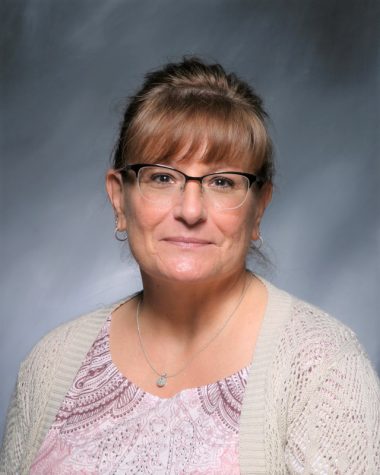 Trinity junior Nikolas Jones attests to Comstock's artistic ability. Jones said, "Whenever we had projects that involved art, her examples always blew everyone else's out of the park."
Comstock's geometrical artistic ability was utilized in her book as well.
She said, "All the drawings are compass and ruler made, and most of that is compass because the book is based on pi, which is typically used with circles."
At the same time as "The Most Amazing Pi" was being created, Comstock began work on a second children's book that she hopes to publish one day. Comstock said she doesn't have as much time to put into her literary work as she used to, but she still finds ways to incorporate the arts into her life through her teaching.
Trinity junior Mitchell Jacks remembers Comstock's interest in art being a part of his geometry class.
"I remember art being all over her classroom," Jacks said. "There was an overwhelming amount of 3D art and perspective art, and all the projects she gave us seemed to be art related as well."
As you enter Comstock's classroom, there are posters hung along the far wall with uplifting quotes and messages of positivity. Most of her room, however, is dedicated to student art and projects that she has collected over the years.
"The drawing projects we did were so much fun," Jones recalled.
Comstock's passion for teaching expands beyond her diverse curriculum. Jacks remembers vividly his first impression of Comstock on his first day of online school last year.
"She was welcoming," Jacks said. "We were online because of COVID, but she expressed how she wanted to see us in person, which I think is a testament to what her personality is like. And when we finally did get to see her in person, she was energetic and happy to be with us all class."
Even though she didn't get to see her classroom full of students as  she was used to, Comstock made an impression on her students through the screen and face to face.
Jones said, "I'm not a big math person, but I really enjoyed her class because I could tell she was one of the teachers who wanted me to succeed as a student."
According to a number of Comstock's students, she brought a level of comfort and reassurance that enabled her students to overcome anxiety about taking geometry.
Jones said, "I was worried about taking the class because I had no idea what geometry was about, but I knew she would help me when I needed it."
Comstock taught her students much more than math.
Jacks said, "I think one thing that I took away from Ms. Comstock is to always be an understanding person, and to be understanding of other people and their situations and what they are going through. She was always understanding about us missing dates because of hybrid or being confused on where to turn things in, which is something I know we all really appreciated."
Jones said he learned much more than theorems and postulates in Comstock's class.
He said, "Forgiveness and compassion are essential qualities that I learned from Mrs. Comstock."