'The Best Four Years of My Life'
Trinity has been the best four years of my life. The sense of community and family is like no other school I have been to. The passion we show to meet our athletic and academic goals motivates everyone to do their best. It truly has been a once-in-a-lifetime experience.
The school year up to this point has been a breath of fresh air. Last year was extremely unique, especially for students like me who completed all their work from home. Stepping back into the school has been a great time. I enjoy having the ability to talk to my friends in person and participate in classroom activities that wouldn't be possible if I was online.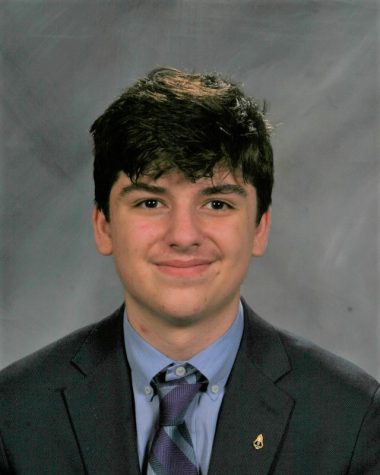 My senior year has also been great because of my involvement. Leading both Dante House and the National Honor Society has been a fantastic experience. I am learning what it is like to be a leader and what qualities you need to be a good one. I have especially enjoyed the trips with Mr. (Chris) Luken to complete service opportunities around Louisville.
Being back in school has also given me the opportunity to spend more time with my classmates. Not only have I retained some of my closest relationships, but also have formed new ones. I have at least three friends in every one of my classes. It is a great feeling when you walk into a classroom and a group of friends greets you. Some of my favorite conversations with friends come when we are walking the hallways to our next class.
"
Knowing that I could potentially persuade an eighth- or seventh-grader to come to Trinity is a fantastic feeling"
One of the biggest highlights of my senior year has been senior retreat. For three years, all I had known about it was that it was the best experience that Trinity offers. After going on mine, I can confirm those statements. I got to grow closer to my brothers, teachers, God, and myself. I learned so much about myself, and it is something I will remember forever.
Trinity does a great job at providing opportunities for every student. More than likely, there is a club, sport, or group that fits your interests. I have enjoyed participating in clubs and meeting people I would never know without those opportunities. Through Trinity, I was able to discover one of my greatest passions, broadcasting and editing. If it weren't for Mr. (Tyler) Harris' A631 Broadcast Journalism class, I would never have discovered what brings me enjoyment.
Being an upperclassman has also given me the opportunity to represent Trinity to prospective families. I have been able to share my love for Trinity with families who are considering joining the Trinity family. Knowing that I could potentially persuade an eighth- or seventh-grader to come to Trinity is a fantastic feeling.
Overall, my senior year at Trinity has been my favorite year. I still have a bundle of things to look forward to, like prom and graduation, but everything I have done so far has made me realize how special this place is.
Thank you, Trinity, for making my high school years some of the best in my young life!