For This Senior, Maximum Effort Says it All
Maximo Animi Ardore. Maximum Effort of the Soul. The motto Trinity adopted is not only what we strive for, but what we achieve. Both teachers and students prove this every day. Whether it's a state title, perfect score on the ACT, or a normal day in the classroom, Trinity does everything with maximum effort of the soul.
Even through COVID-19, this year has been incredible. Students back in the classroom helped us all realize how fortunate we are to be able to see our friends and teachers every day. The interactions we're now able to have make Trinity whole again. Yet, we are still coping with COVID, and new cases remind us of last year.
The seniors this year are the only class in the school that had a full year at Trinity. It's wild to think that our first year here was our only "normal" one. However, it's not this unusual high school experience that we will remember the most; it's the relationships we have formed.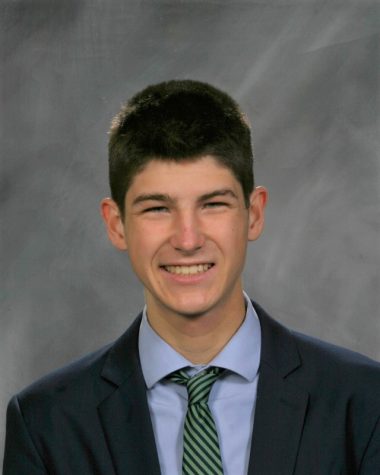 In between classes, there is not a single step I take where I don't see someone I know. That is what Trinity is all about. Teachers welcome their students with a fist bump, and friends nod to each other in the hallways.
My grandfather came here and graduated in the Class of 1959. My whole life, I've always wanted to go to Trinity. My eighth-grade year I shadowed and knew this was where I wanted to spend the next four years of my life. Soon, I'll be surrounded by my brothers, waiting to receive a diploma, like my grandfather did all those years ago.
It's not leaving this place that's special; it's those four years that will live forever in our hearts. Never have I been part of a community so loving and inclusive. There are so many things Trinity does that prove our brotherhood and compassion for each other — senior retreat, pep rallies, school Masses, donation collections, and peer tutoring, just to name a few. As soon as you step into Trinity, all you have to do is look around, and you'll see what brotherhood is really about.
As a freshman, you never think four years could go by fast. Then, senior year comes around, and your time is almost up. As seniors move on, there is no doubt in my mind, or anyone's, that we will do great things. Whether it's college, trade school, or neither, the Class of 2022 will excel wherever we go. The values Trinity has instilled in us and the lessons we have learned will help us succeed for years to come.
"
Soon, I'll be surrounded by my brothers, waiting to receive a diploma, like my grandfather did all those years ago."
Never rest — together we're best. What a beautiful message. Taking a quick look at this year's theme, we may think it's just catchy and doesn't really mean anything; however, it's so much more.
Never rest. This goes back to "maximum effort of the soul." At Trinity, we strive to achieve great things. We don't use half our effort and certainly don't give up. In the face of adversity, we don't rest. Even through a global pandemic, we never rested and faced every challenge head on.
Together we're best. Without each other, we would be nowhere. You can't win Trinity's first baseball state championship or get a five on an AP exam by yourself; you have to work together. Sure, it's possible to do well on your own, but we truly are better together.
Looking back on this year and the past four, I realize that it's more than I could ever ask for. The friends I have made and the things I have learned about myself are absolutely incredible.
As we all go our separate ways, I can only say one thing: Maximo Animi Ardore — Maximum Effort of the Soul.