Rock-Solid Support When Needed Most
What does it mean to be in a brotherhood? Before I came to Trinity, I figured it was like being on a sports team. Everyone helps each other out and works as a team to get to the desired goal. Since I stepped foot on Trinity, it was all that times 100, and I was proud to be a part of that brotherhood.
There are no barriers that come between students. Advising is where a lot of students build relationships with upperclassmen and get the freshmen comfortable, knowing they have at least a couple of seniors who know them. During football season, a practice was cut short so that any players who wanted to could attend a funeral to support a classmate. My eyes were opened to how dedicated the school and the Trinity community are to each student.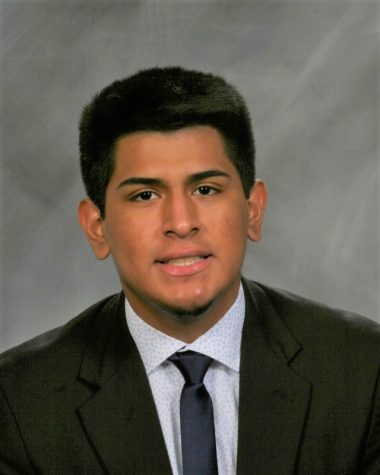 I saw this dedication firsthand this year, my senior year. The year started off as normal as any school year could after a full year of a deadly pandemic. Even though all students and teachers had to wear masks, it was an unexplainable feeling to be walking around campus and through the halls to get to class.
I enjoyed all my classes in the first semester, and the teachers worked hard to make an easy transition from online learning to traditional learning. Then the Opening Mass rolled around, and being able to sit on the football field with my classmates was something special. I was sure to cherish this moment and not take it for granted.
"
Trinity made me this type of man. Trinity, my brothers, saved my family.
Oct. 14 would be the day that I felt most vulnerable in my life. Over fall break, my family and I went through something no family should, seeing our home on fire. No one knew; my family did not tell anyone and did not publicize it. I tried to stay home from school because I did not feel ready to get back into the swing of things. When I got to Trinity, I did not have my ID because it was lost in the fire, so I had to knock on the cafeteria doors to get someone to open the door for me. After I got my temporary ID, I went to my English teacher's classroom. I had borrowed his camera over the weekend and needed to return it. I walked in and apologized that the camera smelled like smoke and explained what happened. He put the camera to the side and asked if I was okay, showing how the camera was the least of his concern.
After a month, the whole school knew, and I felt the love and support from each classmate and teacher. My friends gave their condolences and always made sure to include me in the conversation, even if I did not talk much. My friends were there for me, and I felt stronger each day because of them. On a Sunday my history teacher and four students showed up at my house bearing gifts and had all the money the school collected for our family.
Two of the students I did not know well, but when it mattered most, they showed up for their brother. The whole Trinity community for about two months begged to help and asked what more they could do. It was at this moment I realized the true meaning of brotherhood.
I know my family is not in anyone's debt, but I feel responsible to give back to the community. Trinity made me this type of man. Trinity, my brothers, saved my family.