The Voice of the Rocks for Two Decades
The radio has long been one of the most important forms of communication. Trinity teacher Mr. Wayne Kraus, a master of the medium, has been the "Voice of the Rocks" since 2002.
Trinity broadcasts football, basketball, and baseball games. Trinity teacher and alum Mr. Dave Aberli '75 and 1985 Trinity alum Mr. Jason Larch have been alongside Kraus for most of the 20 years he's been on the air.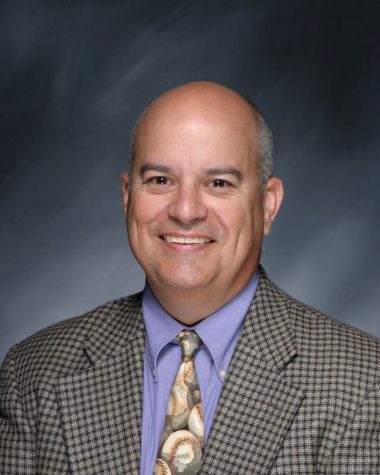 Trinity radio broadcasts began several years before Kraus took the microphone, with the voices changing from year to year. Kraus began broadcasting in 2002 with football. He said, "When I first started doing radio, I worked with (1984 alum) Sean McGuire for the first few years."  When McGuire started coaching and was unable to continue work on the radio, Kraus sought assistance from Larch.
Larch and Kraus, also a 1985 THS alum, have known each other since grade school and have stayed connected for 44 years. When Kraus first approached Larch to ask for help with the radio broadcasts, Larch was a bit hesitant.
Larch said, "One afternoon he (Kraus) just called me out of the blue and asked if I'd be interested in doing the Trinity radio broadcast with him for (football) games. He explained what I'd be doing — he'd basically do the heavy load, and I'd do the color commentary. I talked it over with my family, and I've been doing it ever since."
As the color commentator, it is Larch's job to add perspective to the play-by-play Kraus provides.
"
One of the keys to a good broadcast is having a good relationship. If you are friends, it manifests itself over the airwaves.
— Trinity teacher Mr. Wayne Kraus
While Larch works with football, Aberli helps with basketball. As a former coach of the Rocks, Aberli has a special connection with Trinity basketball.
"I was the junior varsity coach back in the 1980s, and beginning in 2001 up to 2011, I was the head basketball coach. But I gave up the position and moved to Director of Students. That's when Coach (Mike) Szabo came."
Aberli added that he has known Kraus for many years. "Oh, I've known Mr. Kraus since he was a student here. I didn't have him in class, but I knew of him."
Among others who have worked with THS radio in recent years are Mr. Lee Handel '00 (assists with baseball), Mr. Mike Yates and Mr. John King '80.
Kraus spoke of how fortunate he feels to have been able to broadcast numerous football championships, as well as basketball and baseball title wins. He expressed appreciation for the partners he has had over the years: "One of the keys to a good broadcast is having a good relationship. If you are friends, it manifests itself over the airwaves."
Behind the broadcasting scene is Mr. Rob Saxton H'15, the Director of Athletics at Trinity, whom Kraus described "as supportive as you could ask for." Saxton oversees establishing relationships with radio stations that will air Trinity broadcasts.
Saxton said, "The parent group is Word Media, and they own a whole bunch of radio stations. The station that we are on primarily is 970 AM WGTK. Trinity varsity football has been on the radio for many years. It's a tradition for Friday night games. In recent years we've expanded beyond football and covered basketball games, baseball games, the Toy Bowl, and there's a few other things as well."
Trinity broadcasts in recent years have had competition from media sites like Twitter, Facebook, and Instagram, which have cut into the number who tune in to radio stations. Instead of simply competing against social media, the Rocks joined them by posting updates, play-by-play, and the scores online from their Trinity Athletics Twitter account. They can be found on Twitter at @trinitysports.
For those interested in becoming sports commentators, the broadcast team has good news, according to Saxton. He said, "We're adding a video board this fall in Marshall Stadium, so Trinity students will be broadcasting games on the video board, and that will involve live streaming."
Saxton said he is excited about a new class for students, who will have an opportunity to work with the video board. He said, "There will be equipment in the TTV studio that will be similar to an ESPN truck with microphones and headsets. And then out in the stadium, there will be cameras and camera operators with headsets. The directors will talk back and forth and say, 'Let's do an instant replay, let's do a slow-motion replay, let's drop in a commercial for the fall play or for Open House, or add a promo for Senior Prom.'"