Shammy Award Tradition Marked by History, Mystery, and Whimsy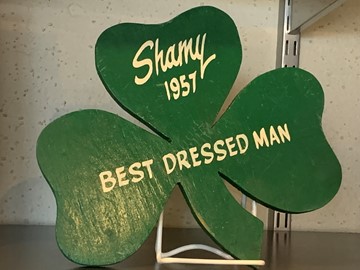 "And the winner of the Mr. Trinity award is…". These are some of the most anticipated words for seniors at Trinity High School. The Shammy Awards are presented to members of each senior class at their prom.
The Shammys have been presented at prom since the first class of seniors at Trinity — and even a bit before that. The first Shammy Awards night was at the 1955 prom and was given to juniors because there was not a senior class at THS until 1956-57.  Shammy was spelled with one m in the early days.
After that year, awards were given to every senior class to the present day.
Senior Class President Graven Monsour said the Shammy Awards are an integral part of a senior's life at Trinity. He said, "We all respect the awards. We joke around a lot, but when it comes to this, we all realize how serious it is."
Trinity Principal Dr. Dan Zoeller agrees with Monsour, saying, "The Shammy Awards are a sacred tradition at Trinity."
Today's voting for Shammy winners is conducted online. An email is sent to every senior asking for them to vote on who should win the different awards.
Trinity Archivist Ms. Barbara Mullen shared a great deal of information about the Shammy Awards.
She said, "We were the only school to give an academic award, so I think they named it the Shammy as an offshoot of shamrock. There are just a lot of gaps in the history (of the Shammy), which is kind of fun since it's a mystery. Since there have been 60 years of Shammys, somewhere around 680 to 700 Shammy Awards have been given out."
The school's archives are located in the Communication Arts Center. In the archives are walls of Trinity memorabilia. Old jerseys, Shammy Awards, rings, yearbooks and newspapers, all on display for visitors to see.
Every year there is a possibility that the Shammy Awards categories will change a little, but the main awards like Mr. Trinity will always be there.
Mullen said, "I remember in 1957 they had an award for the student that had the best hot rod."  Shammy Awards could range from an award for the coolest car to being the best dressed on campus — or to a humorous award like "Most Likely to Stay Quiet in Germany."
Mullen said, "I remember there was a 'Most Likely to Stay Quiet in Germany' award, the reason being was there was a student who took German, never spoke or learned a word of it, and people knew. So, in the end, he won this award."
Over the years students have donated their Shammy Award to the archives. She said, "Several alumni have donated their awards back to the school. There are several awards from 1957." Students also used to keep score at prom of who won the most awards.
The winners of the 2022 Shamrock Awards were Will Duncan (Mr. Fall Sports), Elijah Davis (Mr. Winter Sports), Matthew Scaglione (Mr. Spring Sports), Armon Tucker (Mr. Football), Korbyn Dickerson (Mr. Baseball), Jack Pilbean (Mr. Manager), Tyler Williams (Mr. Comedy), Carson Mehlbauer (Mr. Performing Arts), Spencer Pride (Mr. Visual Arts), Matthew Chou (Mr. Scholarship), Drew Woodruff (Mr. Service) and Graven Monsour (Mr. Trinity).
After two years of lockdowns, virtual learning and mask mandates, this year's seniors got to have a "normal" prom. Despite the restrictions prior to this year, Shamrock seniors continued the Shammy Award tradition.