A Quick Six with Rocks Associate Director of Athletics Mr. Sean Duggins
The Trinity Athletics Department works year-round to keep the Rocks competing in 19 sports.  In this part of a series that lets readers get to know the department members, Rocks Associate Director of Athletics Mr. Sean Duggins answered a few questions.
Q: Being a Trinity Class of 2004 alum, why did you decide to return to Trinity to teach and coach?
A: After working in the corporate world in Cincinnati for several years after college, I returned home seeking to switch careers to…anything but a corporate job. At the same time, a good friend of mine was subbing at Trinity and suggested I do the same until I found a steady job. I applied and began subbing on a regular basis. It did not take long for me to realize Trinity was where I wanted to be every day. I began taking steps to obtain credentials to become a full-time teacher and was offered a teaching position in 2015.
Q: Prior to coaching for Trinity, what sports did you play and for which teams?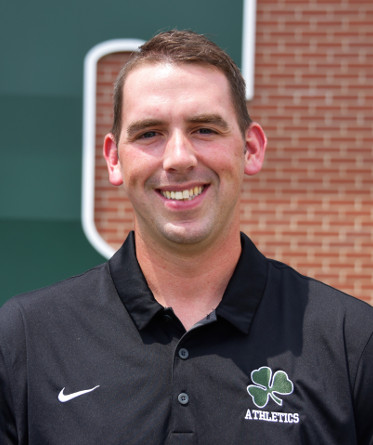 A: I played baseball for Trinity and for Northern Kentucky University.
Q: How are coaching baseball and teaching similar? 
A: Good teachers and coaches must be very effective at two things: communicating and motivating. In my early coaching days, I learned both from the older coaches around me. When I arrived at Trinity as a teacher and baseball coach, suddenly, I was surrounded by first-class teachers and coaches. I have learned so much from my peers, bosses, and mentors during my time at Trinity. I am humbled and grateful for my experiences and opportunities at this school.
Q: In 2018 you transitioned from teaching social studies to becoming the Associate Director of Athletics. Why did you decide to take that position?
A: I was driven to help the school in more ways. As a teacher and baseball coach, there were lots of opportunities for me to help the school. But as an administrator in the school's Athletics Department, my hope was that I'd be given more opportunities to help all our sports, along with more of our students and their families. 

"

I am humbled and grateful for my experiences and opportunities at this school.
Q: What do you enjoy about being Associate AD?
A: My work environment is first-class. I am alongside hardworking, dependable, and trustworthy people every day.
Q: Why is Trinity important to you?
A: Nowhere else touches my heart like Trinity. I have found a job I enjoy at a place I love. I can't ask for much more. Trinity is important to me because of the man it has helped me become.