A Quick Six with Spring Sports Senior Andrew Baribeau
The Rocks are newly crowned volleyball state champs. Led by head coach Brian Bowles, the team, playing last night in the KBVA state championship at Silver Creek High School, beat Floyd Central 2 sets to 0 in the semifinals and then defeated the St. Xavier Tigers 3-1 in the championship game.  In the fourth and deciding set, Trinity closed the match on an 8-1 scoring run. Prior to last night's play, senior Andrew Baribeau answered a few questions. 
Q: When did you begin playing volleyball competitively?
A: I started playing volleyball back in third grade because it was something fun to do in the spring.
Q: What is the goal for the team this season?
A: This year we're staying focused and working hard to end this season with a state championship.
Q: What position do you play and what skills are needed most?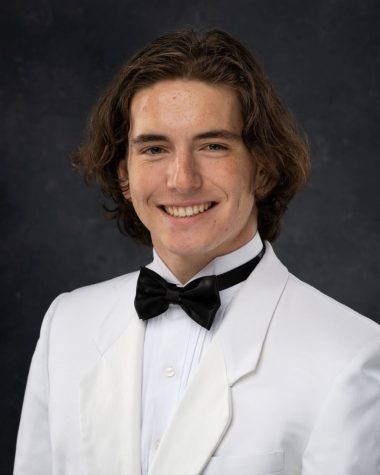 A: I am a pin hitter, meaning I hit on both the outside and the right side. One of the most important skills to have is good timing. Without timing, none of the other skills can be used.
Q: What has been your favorite memory on the volleyball team?
A: One of my favorite memories with the team was earlier this season when we beat St. X.
Q: In what way do you plan to continue volleyball after your high school career?
A: I will not be playing volleyball for a college, but I will continue to play through intramurals and pick-up games.
Q: What is your fondest memory of Trinity High School?
A: There are too many to pick just one, but one thing that stands out is every day at lunch when my friends and I play Rock Paper Scissors to see who has to take up all the trays.