A Quick Six with Rocks Public Address Announcer Mr. Mike Guetig
The Trinity Athletics Department works year-round to keep the Rocks competing in 19 sports.  In this part of a series that lets readers get to know the department members, Rocks Public Address Announcer Mr. Mike Guetig answered a few questions. 
Q: When and how did you get started as announcer at Trinity games?
A: My whole journey started in 1980 on a Sunday afternoon during the winter when I stopped by Steinhauser Gym to see Joe Demling, who was in charge of Trinity's buildings and grounds for many years. We were in the Trinity Booster Club, which back then was a group of people who tried to raise funds to keep Trinity up and running. For example, we had the booster Bingo every Wednesday night for years. Joe was in charge, and I was the Bingo caller for around 13 years or so. We had many other Booster Club workers that took care of all the various jobs to keep Bingo running for a long time.
Also, back then (and even now) the gym was used on Sunday afternoons during basketball season for 7th/8th-grade CSAA (Catholic School Athletic Association) games, usually four or five games every Sunday afternoon. So, on this particular Sunday in 1980, I went to see Joe and we conducted a little business, and I was going to head home to watch some NFL football. I glanced across the court to see who was announcing the games, and it turned out it was one of my Class of '72 classmates, so I thought I'd go say hi and then leave. I said hello to him, and he said, "Hey, what are you doing next Sunday?" I said nothing that I knew of, and he replied, "I'm leaving tomorrow to enter the seminary, and I need somebody to take over calling these games. Why don't you do it?" I said no thanks; I had never in my wildest dreams thought of doing something like that.
He kept pressuring me to say I'd do it, and I kept saying no until finally he said, "Well, I have to go make a phone call in the concession stand at the end of this game, so why don't you write the lineups for the next game for me, and then we'll stay on time for the next game."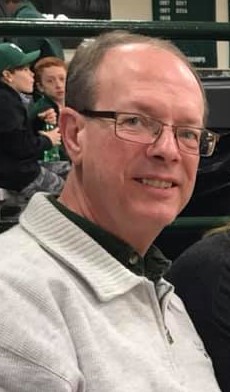 I agreed to do that, but little did I know that after he made his phone call, he went out the back door and left, which meant that I had to announce the next three games of the day. It must have sounded terrible, but somehow I got through it. I called him as soon as I got home, and he was laughing his head off and saying, "See, I told you you could do it! It's all yours now!"
I didn't know whether to thank him or go punch him in the nose. So I took over working the CSAA games on Sundays, which I ended up doing for around 30 years or so. The Trinity announcer at the time was a gentleman named Gene Lennart, who I recall him announcing even when I was a student from 1968 to 1972. Around 1983 Gene and I started working games together, he training me on ways to do things and especially not mess anything up. Gene had a son at Trinity, Jimmy Lennart, from 1981 to 1985, and Gene would say, "Now, when Jimmy graduates, I'm done with this, and you're going to take over." So I took over calling JV and varsity football and basketball for Trinity games in 1985, and 37 years later I'm still doing it — and enjoying every minute of it.
Q: What is you background in sports, and is there someone who influenced your announcing?
A: I didn't really participate in sports when I was a student at Trinity. I was a bowler, but at that time Trinity didn't offer a bowling league. During my junior year, I and one of my classmates, Pat Arnold, floated the idea of Trinity having their own bowling league. The administration blessed the idea, so we put some teams together and ended up having an intramural one-day event with Sacred Heart, who had their own league for many years. It was so successful that we ended up merging the two leagues together the next school year, and it was so popular that it filled Ten Pin Lanes every Friday afternoon for many years. Not to mention that I met an SHA bowler, and we started dating. Now she's been my wife for 45 years and counting. As far as someone who influenced my announcing, I always kind of patterned my ways on the U of L basketball/football announcer John Tong, who called both high school and college games for decades. He never really got overly excited or was a screamer, like many guys today, but he was equally fair to both teams in his mannerisms and didn't favor one team over another. He knew his stuff, and he basically explained the game in a calm manner to the fans no matter who they were pulling for.
Q: For what sports do you provide announcing, and do you have a favorite?
A: I pretty much just announce football and basketball, but in the past I have done a little bit of baseball and volleyball. I love both football and basketball, but if I had to choose a favorite, I think I would say basketball, because when you announce basketball you're sitting right on top of the action, as compared to football when you're up in the press box trying to see 22 players on the field below.
Q: What do you enjoy about announcing games? 

"

I've had loads of fun and met some very interesting people along the way, and it all started that one Sunday in 1980 when I went to Steinhauser Gym to see Joe Demling.
A: I really enjoy calling games, whether they're huge like the Trinity-St X games or even when they're not that competitive, because I like trying to make sure I give both teams a fair shake no matter what the score is. I know that the players from both teams have their parents and friends in the stands, and I try to make my call as interesting as possible no matter which team they're following. I also try to know as many of the rules as I can so that if there's a strange call that has both sides booing the ref, I can try to give a quick explanation of what the rule states and why the refs did what they did. Especially in this day and age where fans get out of control at games, it helps if the announcer can diffuse a potentially bad situation and get the fans to calm down and act responsibly.
Q: What is the most difficult aspect of the job?
A: I don't really consider any of it that difficult, but I would say that the most important things for me as an announcer is pregame preparation, making sure all the uniform numbers are correct and match up with the rosters that the teams provide you. And also to make sure you know all of the name pronunciations. There's an old saying that a man's most precious possession is his name, and as an announcer, you sure don't want to mess that up on a PA system in front of hundreds or thousands of fans.
Q: Why is Trinity important to you?
A: I had the time of my life at Trinity, and the older I get the more I appreciate the education I received and the many, many friends I made and still hang out with to this day. My wife and I sent our son Chris to Trinity, and he graduated in 1997 exactly 25 years to the day that I graduated in 1972. I've always said there's an omen in there somewhere about that 25-year difference; that kind of thing doesn't just happen every day. I've always enjoyed staying active at Trinity by being involved in the sports announcing, participating on various committees and boards when asked, and playing up the value of a Trinity education to those I meet out in the community — plus keeping involved by supporting Trinity with the Annual Fund and donating to other causes and programs that keep Trinity at the forefront of a first-class Catholic education.
Bonus: In what other venues have you worked games?
A: I'm also very involved with college sports, too. I've worked with U of L sports for the last 33 years by running the scoreboard for U of L football at Cardinal Stadium. I've been the shot clock operator for U of L men's and women's basketball, and I've been the clock/scoreboard operator for U of L women's volleyball. I also run the shot clock for Bellarmine's men's and women's basketball games.
I've been very fortunate to be chosen along with U of L's clock/scoring crew to work the ACC women's basketball tournament for the last seven years. And something I'm most proud of and humbled by is being chosen to work eight Final Fours between NCAA D-1 men's basketball, D-II men's basketball, and D-1 women's volleyball over the years. As I jokingly tell people, for someone who never thought of working sports, things have turned out pretty well. I've had loads of fun and met some very interesting people along the way, and it all started that one Sunday in 1980 when I went to Steinhauser Gym to see Joe Demling.