Giving Back for 42 Years
Mr. Dave Aberli has had a profound impact on Catholic education in a variety of ways. He served as a teacher, administrator, coach, and a commentator for basketball radio broadcasts, working at his alma mater for 38 of the last 42 years.  Aberli has decided to begin a well-earned retirement at the end of this school year.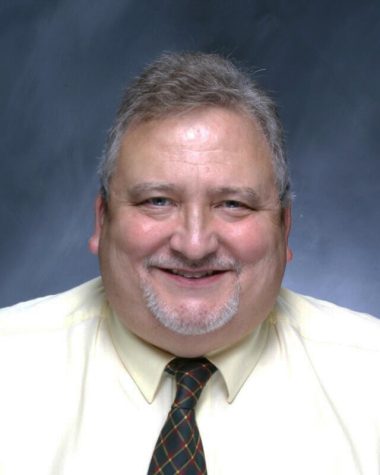 For Aberli, a Butchertown native, his time at Trinity started as a student in the Class of 1975.  "Trinity influenced my life very strongly. It showed me discipline and helped me mature," Aberli said.
After graduation, Aberli went to the University of Louisville, earning his bachelor's degree. Aberli then earned his master's degree at Spalding University.
Aberli came back to Trinity in the fall of 1980 to teach math, later transferring to teaching theology and freshman success. Outside of the classroom, Aberli coached the varsity basketball team from 1991 to 2001.  After Aberli stopped coaching, he became Director of Students — working in that position for 17 years — and a commentator with Mr. Wayne Kraus on Trinity basketball radio broadcasts. 
"
I chose to work at Trinity because of all the great experiences I had there.
— Trinity teacher Mr. Dave Aberli
Aberli's time at Trinity was interrupted by a four-year stint as teacher and basketball coach at Holy Cross. Kraus appreciates Aberli's work on the broadcasts and his knowledge of basketball. He described Aberli as "a great guy and great to work with."
Aberli said Trinity was very different in the '70s to what it is now, but in some ways still very similar.
He said, "One thing that has changed is that it's gotten a lot bigger. When I went to school here and started teaching here, we only had the three main buildings. These buildings didn't even have names. What is now Old Trinity Hall was called A building, Floersh Hall was called B building, and Sheehan Hall was called C building. The facilities have also changed a whole lot. One last thing that has changed about Trinity is when I went to school here and started teaching here, we had mostly religious faculty. Most of the teachers were priests. The one thing that has stayed the same about Trinity is the spirit. I don't think that will ever change. "
While at college, Aberli had not planned to teach, but his plans changed.  He said, "When I was in my senior year at U of L, I was working a lot of the senior retreats for Trinity. The principal at the time, Father (Thomas) Duerr, asked me to come back to be a teacher at Trinity High School. I chose to work at Trinity because of all the great experiences I had there."
Aberli's room, located on the second floor of Floersh Hall, has plenty of full bookcases. The routine for  students stays pretty much the same.  They walk in, find their seats and talk a little bit before class starts. Once the bell rings, the class says a prayer before the day's lessons begin. At the end of blocks, Aberli usually adds an activity to strengthen memory of what they just learned.
"Mr. Aberli is a great teacher. I learn something new every time," sophomore Will Taylor said. "My favorite part about Mr. Aberli's class is the relaxation aspect — he's pretty chill."
According to Taylor, when students are studying in class, "We might not think something we read is important, but it definitely comes in handy later on."