A Quick Six with Rocks Director of Athletics Mr. Rob Saxton
The Trinity Athletics Department works year-round to keep the Rocks competing in 19 sports.  In this final part of a series that lets readers get to know the department members, Rocks Director of Athletics Mr. Rob Saxton answered a few questions. 
Q: What are your main duties as Director of Athletics?
A: Provide oversight, support and guidance for all Trinity sports teams and sporting events.
Q: What do you miss about coaching basketball?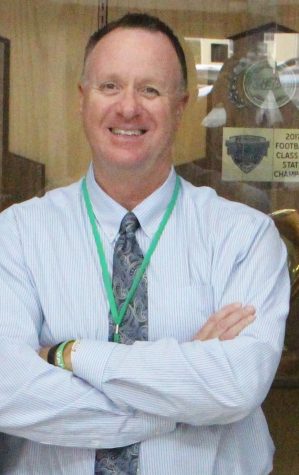 A: The day-to-day interaction with the student-athletes in practice, on the bus rides and during games.  Forming a team at the beginning of the season, helping the team grow and develop as the season moves along and then seeing how each player has matured along the way are things coaches enjoy most.  I miss all of that. 
Q: What was it like having all three of your sons graduate from Trinity?
A: I am sure just as any parent of a Trinity alum is proud of their son. I am very proud of each of my boys, and I so enjoyed their time at Trinity.  Their mother and I have remarked over the years how "low maintenance" Bret, Kyle and Troy were during their teenage years, and we attribute much of that to their time at Trinity.  They loved being on this campus 10 and 12 hours a day between classes, practices, games and hanging out with friends.  The fact that I coached each of them as freshmen never seemed weird, although I will say that they told me not to stop at their lunch table and talk with them during lunch.
"
Trinity is a wonderful place to be a part of.  We are blessed with great people and great support systems."
Q: What are the toughest and most enjoyable aspects of being AD?
A: I cannot begin to count all the aspects of my role that I enjoy.  My standard joke is "I get older each year and the freshmen stay the same age."  Being around young men each day who are passionate about their sport and their team is so refreshing.  It never gets old.  Seeing how the guys grow from freshman year to senior year is rewarding for any of us who have the privilege of working at Trinity.  In terms of challenges, there are not many. Trinity is a wonderful place to be a part of.  We are blessed with great people and great support systems. High school sports can be a very competitive environment. Occasionally, the emotions of our student-athletes, coaches, parents, and fans run a bit hot. In that case, I try to be a calming influence. 
Q: How did you feel when you were named an Honorary Alumnus in 2015?
A: Pride and joy.  As a graduate of a public school a long time ago, I was honored to be included in such a wonderful circle of people.  It just took me a while longer to get here.
Q: Why is Trinity important to you?
A: Trinity has been a huge part of my life.  One third of my time on this planet has been spent in and around 4011 Shelbyville Road.  This school community helped Monica and I form our sons to be Men of Faith and Character. It has been a workplace for me for over 20 years — a place where I have made friends, made memories, and hopefully made a few of our students better as well.  I have been fortunate in my career to have worked in GREAT organizations……the United States Marine Corps, YUM Brands, and Trinity High School. You won't find better places to be a part of.