Rocks Bring Home KUNA Honors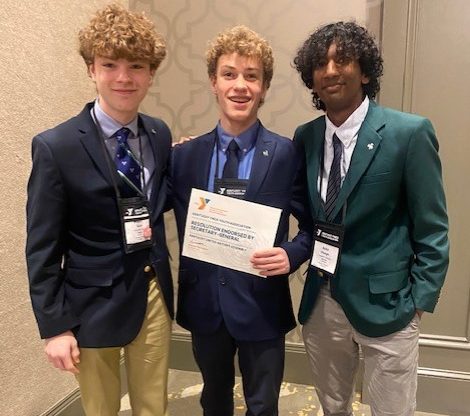 Under the leadership of the senior Y-Club captains Ben McBride and Chris Raymer, Trinity's delegation excelled at the Kentucky United Nations Assembly.
Awarded Premier Delegation honors, the Rocks were among the schools that demonstrated excellence in every aspect of the conference.
McBride was named an Outstanding Ambassador, and Max Corbett earned an Outstanding Speaker award.
Nolan Williams, Roberts Sartor and Ashir Ouseph sponsored a resolution endorsed by the Secretary-General.
Chaz Kapfhammer was elected to be the next conference Editor in Chief.
Co-adviser Mr. Jorge Serrano said, "Our student delegation was amazing and made us so proud for being men of faith and character."
Mr. Walter Mata also served as co-adviser
.