A Quick Six with Spring Sports Senior Jackson Heim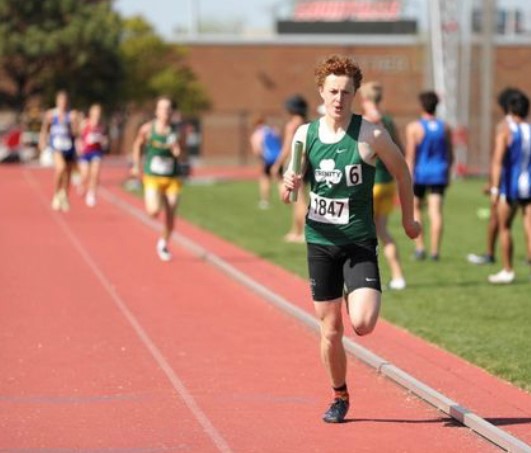 On a track and field team building toward a strong showing in the regional and state meets (May 23 and June 3), the Rocks' senior leadership makes a difference. Senior Jackson Heim answered some questions about his running career. 
Q: Why did you begin competing in track and field?
A: I started running track in the fifth grade because I was known as one of the fastest kids in my grade. Also, my dad had always wanted me to run track. I started off running cross country in the third grade, and I loved it since it had shorter distances. Once the distance went over a mile, that is when I primarily switched to track and have been there ever since.
Q: How is the season going so far?  
A: The season's going well for the team. I've been injured most of the season, but the team is looking outstanding with numerous young runners stepping up in any event needed. We have won a couple of meets so far but keep our main focus on regional and state.
Q: What is your part on the team and what skills does that require? 

"

Trinity truly is a special place where the brotherhood is evident and thriving in each and every person.

— Trinity senior Jackson Heim
A: My part on the team is running the 200, 400, 800, and 4 x 400. The 400 is my favorite race. In this race, strategy is very key even though you stay in your own lane all the way around the track. It is important to improvise and be decisive because of the unknown in the race. A good sprinter for the 400 needs to be very fast but also have good endurance.
Q: What has been your favorite memory on the team?
A:  My favorite memory while being on the team would have to be all the hard but fun practices I've had with my teammates. For example, we had this workout in the summer that was 3 x 500 meters at 72-73. My teammates and I knew this was going to be simple, but we were completely wrong. We all hit our times accordingly, but this one took it out of us. After the workout, my teammates, my coach and I went to Smoothie King.
Q: In what way do you plan to continue your sport after your high school career?
A: I am continuing my sport by running track and field at Centre College in the fall. I will be competing in the 200, 400, and 800 for Centre next year. It gives me the chance to compete with the best of the best while having one of the best facilities in the area. Centre is building a $60 million indoor track for the campus. It is an exciting time for Centre track and field.
Q: What is your fondest memory of Trinity High School?
A: My fondest memory of Trinity has to be all the brothers I have bonded with over the years. Whether that was in small moments before class started, over at the lunch table, or at all the retreats I've been to. Trinity truly is a special place where the brotherhood is evident and thriving in each and every person.