Rocks fall victim to late Ensworth drive — opener on ESPNU in front of record crowd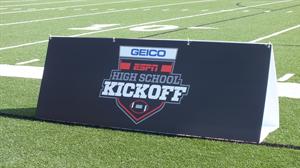 In front of a record crowd of 9,000, the varsity football Rocks made history this past weekend as they opened the season against Tennessee power Ensworth on ESPNU.  They fell short, losing 27-26.
Trinity running back Donald Brooks scored three touchdowns and rushed for 86 yards.
Despite surging to a 26-14 lead early in the fourth quarter, the Rocks could not make the plays down the stretch to secure the win.
Assistant coach Gary Owens said, "The coaching staff and players want to thank the best student section in the country for showing their support early and often.  It was the loudest Marshall Stadium has ever been.  The challenge is to bring that same energy to all the fall sports contests this year."
Next up for the Rocks is a trip to Indiana power Carmel in Indianapolis Friday at 7:00.