A Carmel Clean Sweep!
ECHO Staff
September 13, 2013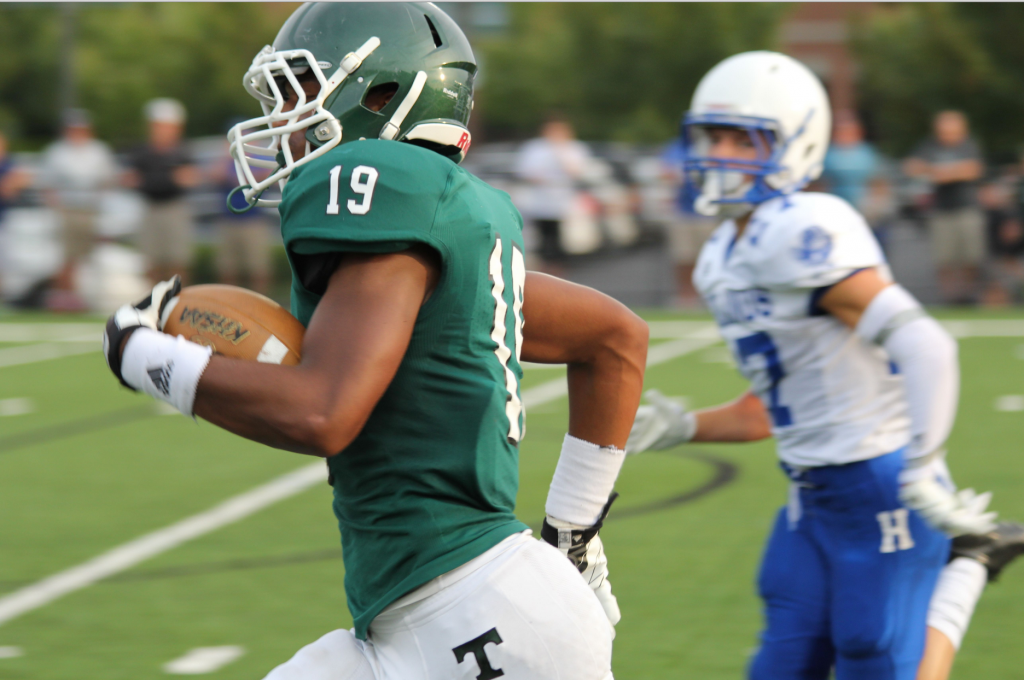 Varsity 42-35 over Indy Carmel
Again the varsity football team found itself ahead by two touchdowns in the fourth quarter against a talented football team. The Rocks secured the victory with clutch plays down the stretch in knocking off Carmel of Indianapolis 42-35.
Solid defense kept the Greyhounds at bay the entire first half, allowing only one drive for a touchdown.
After leading at halftime 14-7 for the second straight week, the Rocks allowed Carmel to stay in the game due to some missed opportunities. But the offense came up with huge drives, including a 4th-and-6 conversion for a 31-yard touchdown pass that proved to be the game winner.
The Rocks take on another Indianapolis team tonight against Lawrence Central.
Junior Varsity 19-0 over Indy Carmel
The JV football Rocks opened the season with an impressive 19-0 win over Carmel of Indianapolis this past Saturday.
The game was called after halftime due to excessive heat, but it was the defense that was hot for most of the game, forcing three turnovers and keeping a talented Carmel team out of the end zone with huge critical zone stands.
The offense fought through some adversity in order to get in the end zone with help from a variety of experienced as well as inexperienced players.
Next up is a home game against Lawrence Central as part of a double-header tomorrow. The frosh will play at 10:30 and the JV at 12:30.
Frosh 32-6 over Indy Carmel
The freshman football team opened its season this past Saturday with a 32-6 victory against Carmel High School. The Rocks offense was very polished for a first game and scored five touchdowns.
The offense was led by Larry Harper, Jova'n Smith, Jovel Smith, Collin McKinley, Barron Hoffman, Noah Ellison, Anthony Timmering, and Cole Spencer.
The defense forced four turnovers and was led by Walter Chambers, Justin Richie, Ahmad Johnson, and Zyan Bethel.