News Digest — A celebration of grandparents, comedy, robotics, shoes, cricket & archery
ECHO Staff
September 23, 2013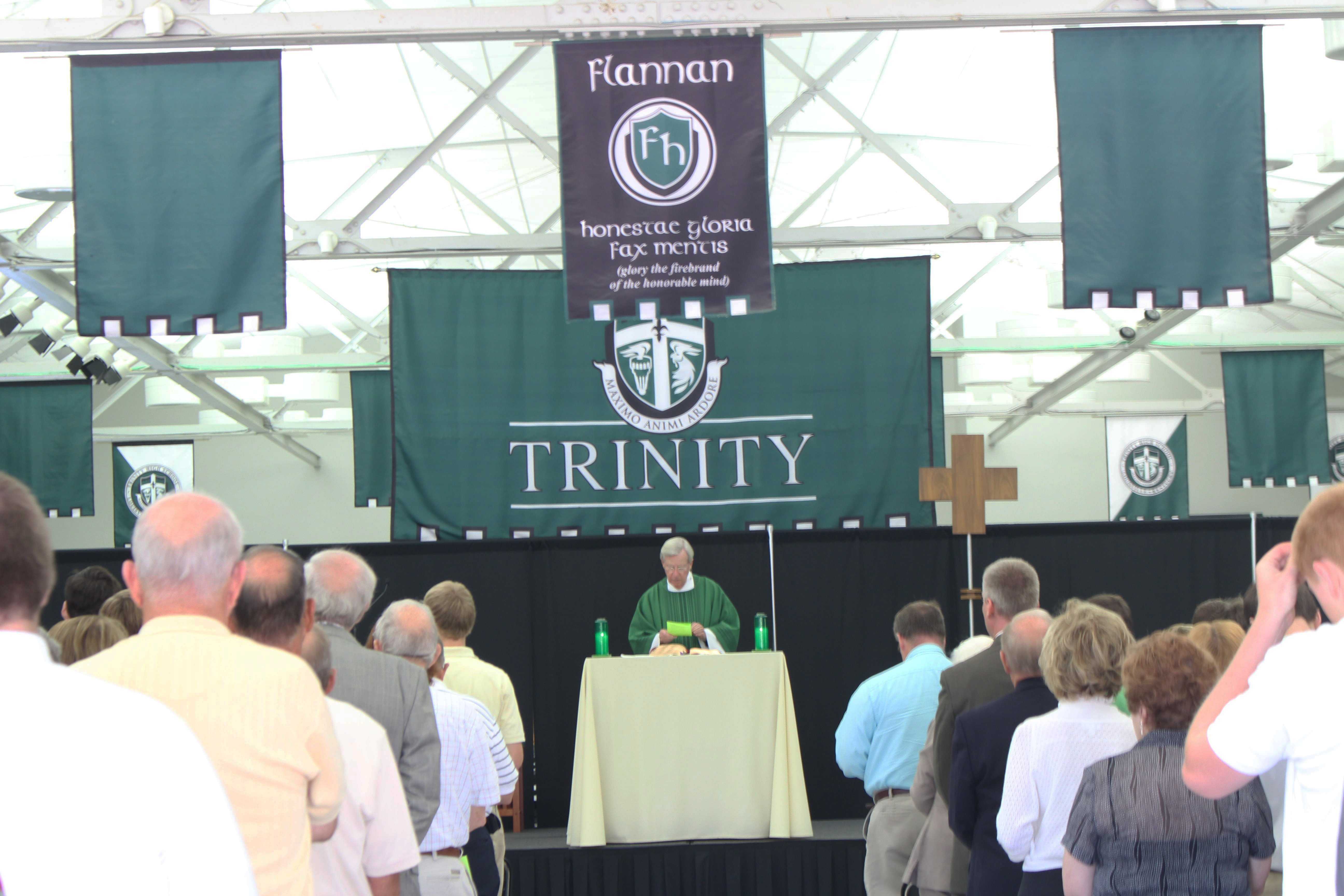 On National Grandparents Day, Sept. 8, Campus Ministry hosted a Mass for Trinity students and their grandparents at 10:30 a.m., in Alumni Hall. Trinity Chaplain Fr. Dave Zettel celebrated the liturgy.
Books and toys collection for Wayside Christian
As part of an Eagle Scout project by senior Daniel Ryan, a collection drive was held for children's books and toys for the benefit of Wayside Christian Mission's children's center. Gently used toys and books were collected for children aged two to four.
Comedy Club coming
An announcement from new Trinity librarian Mr. Tim Jones: "Attention, all funny people. If you don't join Trinity's first ever Comedy Club, laughter will die forever. There will only be sadness and tears. Trust us; you do not want to carry around that burden. So join the Comedy Club and make people laugh. You'll be glad you did. The Librarian of Steel will be moderating."
Speaker discusses Teen Court
Ms. Katie Laskosky, coordinator for the Teen Court, spoke to Trinity students about the selection process for this year's Jefferson County Teen Court. There will only be 45 students selected to participate in this year's program.
Robotics competition coming
From moderator Mr. Andre Meyers: "Come be a part of the 'Varsity Sport for the Mind': First Robotics Competition. FRC combines the excitement of sports with the rigors of science and technology. Under strict rules, limited resources, and time limits, teams of 25 students or more are challenged to raise funds, design a team 'brand,' hone teamwork skills, and build and program robots to perform prescribed tasks against a field of competitors.  It's as close to 'real-world engineering' as a student can get. In addition, students get to build and compete with a robot of their own design, learn and use sophisticated software and hardware, compete and cooperate in alliances and tournaments, earn a place in the World Championship, and qualify for over $16 million in college scholarships."
Merton House to clean up Seneca Park
Merton House will complete its annual service project on Saturday, Oct. 19, and is in need of students to help with the Seneca Park clean-up project. If you would like to lend a hand, sign up with Mr. John Baldwin in S154 and make plans to meet at the Seneca Park basketball courts at 10:00 a.m.
Two House collecting for WaterStep Shoe Drive
Trinity's Aquinas and Toussaint houses are collecting shoes for WaterStep from Monday, Sept. 16, through Friday, Sept. 27. WaterStep is an organization that works to supply water filtration systems to impoverished regions of the developing world. This marks Trinity's third year conducting a shoe drive for WaterStep. Nearly 8,000 pairs of shoes were collected and delivered during the two previous drives. Shoes of all sizes, shapes and stages of deterioration will be accepted. Shoes should be taken to Trinity's rotunda, where a collection box is located.  Click here to read more about WaterStep.
Cricket and archery action fast and furious
* The highlight of the afternoon cricket match was the stunning batting performance of sophomore Jeremy Borden, who smashed all the bowlers for a series of sixes and fours, making a personal score of 91 runs, the highest by any Trinity student so far. Jeremy finally fell in the first innings by being bowled out by a full toss from Elton Joseph, and in the second innings by a superb one-handed catch at midwicket by Elijah Donohue, and by the fast bowling of senior Joey Domhoff.
* The Archery Club's first shoot of the school year was a huge success. Only one arrow was reported missing. Newcomer Patrick Letterle led the excellent shooting while leading Team Robin Hood to an impressive victory in the first heat. The Sharpshooters II rose to the top in a runaway in the final heat of the day. However, when it came time for the money shot, new and experienced archers alike wilted under the pressure and no one took home the cash prize. This will cause the money shot for the next shoot to be doubled.