Regional Champion Harriers Ready for State Meet — Coach Calls for Cheers
ECHO Staff
November 5, 2013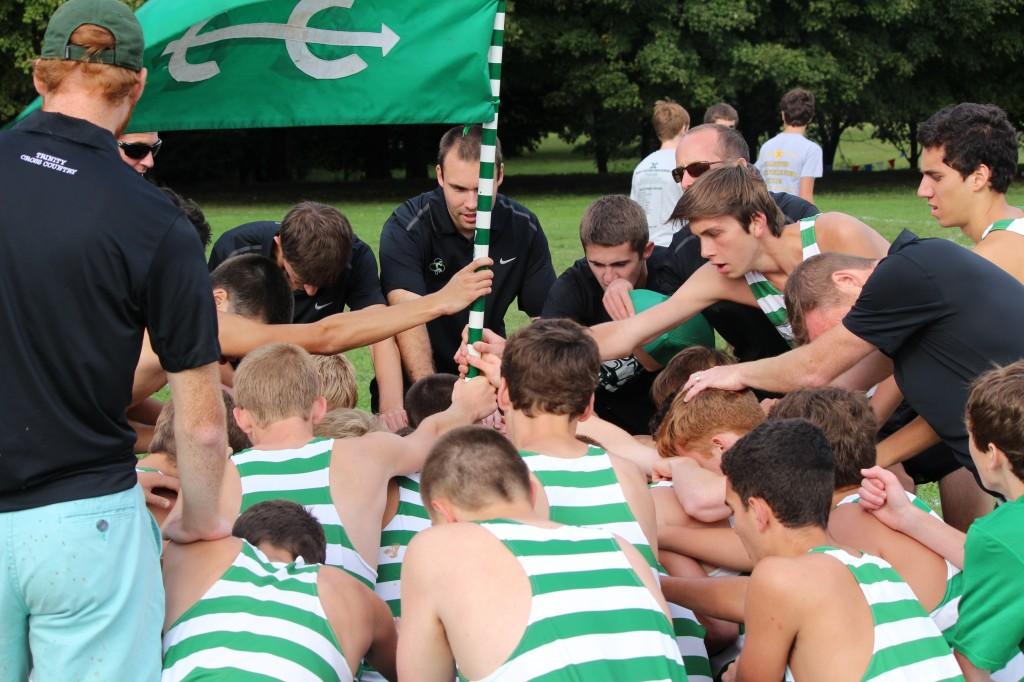 Following the Rocks' 41st regional championship, head coach Chad Waggoner called on the Trinity faculty and school community to help the Rocks take state.
Waggoner wrote: "On Saturday, Nov. 9,  your cross country Rocks will once again toe the line to represent your school in the state championship….Our season has been extremely successful. We are currently ranked 33rd in the nation and will have a dogfight of a battle with St. Xavier, which is 24th in the nation…. This truly is a group that I have been honored to run with, coach, and see grow as brothers. They have been outstanding representatives of Trinity. They are men of character. They are champions in my eyes.
"I encourage you to come to the horse park to cheer on the lads. We will race this Saturday at 1:15 pm. Every voice will count! Every Rock and former Rock cheering on the seven will give them an extra boost of speed. To win, we are going to need every advantage we can find, which means you screaming your hearts out for the seven racing!" 
State Seven (Names, Grade, and Season PR)
* Nick Eckert, 12, 16:09
* Jake Hallion, 12, 16:23
* Andrew Ireland, 12, 15:52
* Evan Lang, 11, 15:52
* Devon Little, 12, 16:20
* Blake Merkley, 12, 16:21
* Derrich Stauble, 12, 15:46
SEASON HIGHLIGHTS
8/31 – Hot Summer Bash – Preseason ranked third in Kentucky; went against top Ohio teams and finished fourth.
9/7 – Runner-up Mason Invitational – Runner up behind nationally-ranked Mason, Ohio, and having seven in the chute before second-ranked Daviess County had second runner finish.
9/21 – Trinity Invitational – Finished seventh, but beat two nationally-ranked teams. Spot earned us a national ranking of No. 43 in the nation.
9/28– Won Aurora Charger Classic (Illinois)! Beating some of the top Illinois and Iowa ranked teams.
10/12 – Won Fast Cats Classic in Owensboro! Beat several Kentucky top 10 teams.
10/19 – Won Shamrock Invite again, beating more top-ranked Kentucky teams. Five-man average  for Rocks was 16:03.
10/26 – Won junior and soph races in KTCCCA Meet of Champions (did not enter a senior team). Second in frosh race. Named best overall team!
11/3  – Won school's 41st regional championship with a score of 25 points going 3, 4, 5, 6, 7, and top five separated by 18 seconds.  Added to our state record of the streak! Now 59 straight years of making it to state championships.
11/10 – State Championships – 1:15 pm at the Horse Park in Lexington