Rocks Sports Nuggets — Football falls to Male; hockey team wins holiday tournament; intramural bowling crowns Team 4
ECHO Staff
December 4, 2013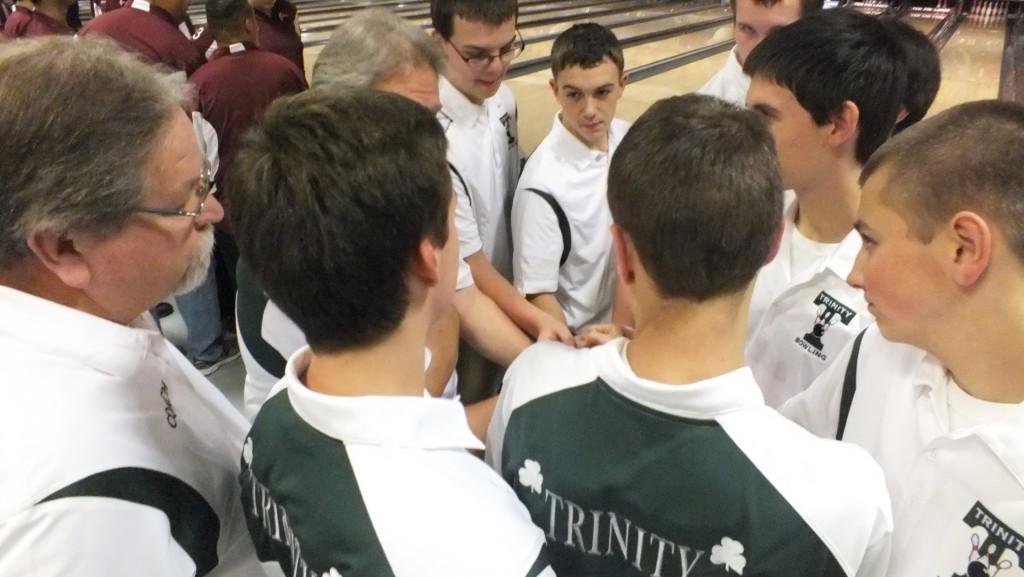 Football Rocks fall to Male
The Rocks' season came to a close in the Class 6-A, Region Three final at Male.
"We'll go back to work and we'll go back to work hard," Trinity head coach Bob Beatty H'03 told The Courier-Journal.
Signature victories this season came over Carmel (Ind.), Cathedral (Ind.) and St. Xavier. Fans will also remember ESPN coverage at Marshall Stadium.  "My teammates and I played our hearts out," slot receiver Drew Chandler said of the loss to Male. "Even though the game didn't go the way we wanted it to, I still love each and every one of them."
Trinity's 2014 season looks very promising. The 2013 squad included nearly 50 juniors and 50 sophomores, many of whom started or gained valuable playing time.
The JV Rocks were undefeated against the same schedule played by the varsity. The freshman team notched impressive victories against teams from Kentucky, Indiana and Ohio, with an average victory margin of 31 points.
Ice hockey Rocks win High School Classic/Chiller Thanksgiving Tournament 
The team had a strong showing at the Midwest High School Classic/Chiller Thanksgiving Tournament. After falling short of winning the tournament for the past 10 years, the Rocks won four straight games to clinch the championship title.
The Rocks defeated Athens (Ohio) 4-1; Lester B. Pearson from Toronto, Canada, by a score of 4-2; and Dublin Scioto 9-1.
In the championship game the Rocks outscored the PHA Prowlers 6-3. Ryan Gustafson scored two goals, and Ben Harmata, Mitch Schiller, Taylor Burdorf and Conor Byrne scored one goal each.
Intramural bowling crowns Team 4
The Shamrock Intramural Bowling League finished its fall season.  The final results were as follows: winning team (21-3) was Team 4, comprised of sophomores Elijah Donohue, Adam Ballinger and Ken Lucas. The high-game actual trophy was won by Donohue, who bowled a 242. The high-series actual trophy was taken by senior Conor Minogue, who bowled a 375 for two games.
Senior Connor King took the high-game with handicap trophy by rolling a 208, and senior Matt Thomas grabbed the high-series with handicap trophy by rolling a 377 for two games. Lucas was the Most Improved bowler, raising his average by 16 pins.
The No-Tap Tournament was won by Minogue, who bowled a 454 for two games. The second-place finisher was junior Ben Sammet, who rolled a 390 for two games. These two bowlers won certificates for free games at Ten Pin Lanes.
Moderator Dr. Tom Zehnder of Trinity and Ralph and Bryan of Ten Pin Lanes thanked all bowlers.  The spring season will begin Friday, Jan. 10.
Soccer Rocks earn KHSSCA Team Academic Achievement Award
Trinity's varsity soccer team earned the Kentucky High School Soccer Coaches Association's Team Academic Achievement Award for exceptional academic performance as a team for the 2013 school year. The Rocks are coached by Dale Helfrich.
Upcoming in Trinity Athletics
Basketball
Friday, Dec. 6 – Trinity at Waggener, 7:39 p.m.
Saturday, Dec. 7 – Trinity at Bowling Green, 2 p.m.
 Ice Hockey
Thursday, Dec. 5 – Trinity vs. Lexington Paul Dunbar at Lexington Ice Center, 7:30 p.m.
Saturday, Dec. 7 – Trinity vs. Indianapolis Cathedral at the Forum at Fishers, Ind., 7:45 p.m.
Monday, Dec. 9 – Trinity vs. St. Xavier at Iceland, 7:45 p.m.
Swimming & Diving
Saturday, Dec. 7 – Sacred Heart Invitational at U of L, 4 p.m.