** Sports @ the Green & White ** — Track Rocks Dominate in Regional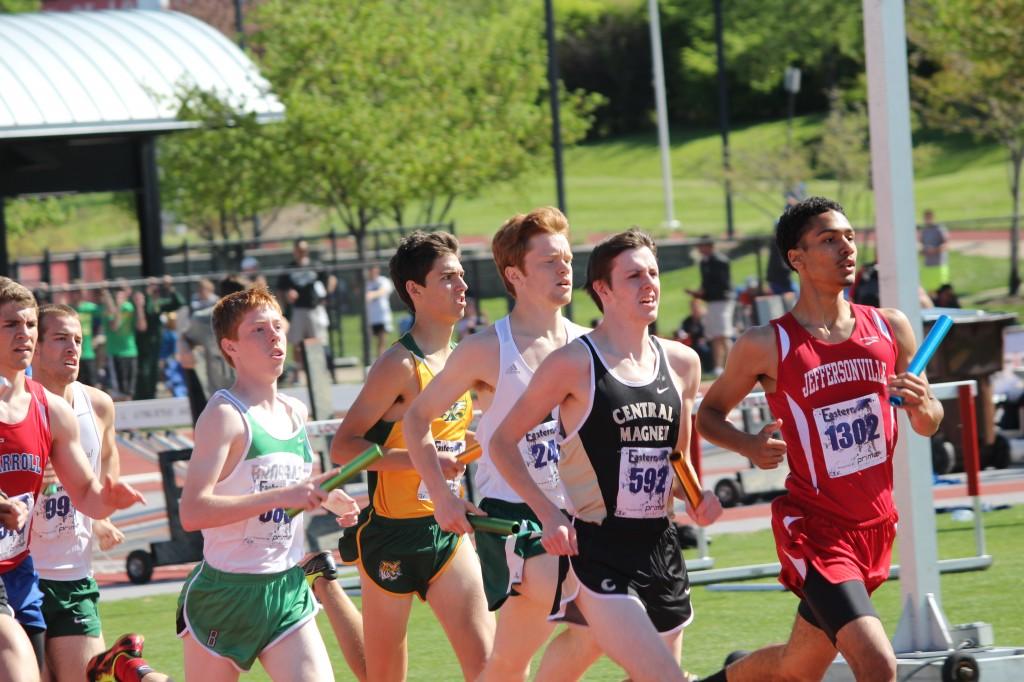 TRACK
With the completion of the postponed 3,200 and the 1,600 relay, Trinity finished with 206 points, overwhelming the field at the Class 3-A, Region Four meet at Fern Creek on May 13. Trinity winners were the 1,600 relay (Aaron Gilcrease, Patrick Martinette, Kyle Smith, Michael Cawoood; 3:22.96), 800 relay (Gilcrease, Ahmed Johnson, Cawood, Smith; 1:29.36), Smith (200; 22.77), Cawood (400; 50.18), Andrew Ireland (800; 1:56.24), Nick Eckert (1,600; 4:36.22), 3,200 relay (Eckert, Nick Finney, Ireland, Phillip Sandman; 8:09.20), John Boyle (pole vault; 13-6), Caleb Costin (discus; 132-07), Santo Biddix (triple jump; 42-1) and Cody Swabek (long jump; 21-8.5, high jump; 6-0).
Sandman (1,600), Adam King (shot put; discus), Swabek (pole vault) and Johnson (200)  garnered seconds, while Tamron Keith (triple jump) and Evan Lang (3,200) placed third.
TENNIS
The doubles team of Wes Tolsdorf and Mustafa Gardezi reached the state semifinals before losing to eventual champions Matt Graft and Nick Waldeck from St. Xavier. Tolsdorf and Gardezi were named to the All-State team.
The doubles team of Austin Strause and Tommy McConville fell in the third round of state play, losing to a pair from McCracken County.
RUGBY
The Trinity rugby team defeated Iroquois 17-8 to advance to the state championship. The man of the match versus Iroquois was John-Luc Hall. The team fell to St. Xavier 31-0 in the state championship May 17 at Cherokee Park.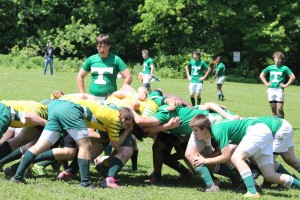 LACROSSE
After defeating Collegiate and KCD, the lacrosse Rocks faced St. Xavier in the state championship game.  Trinity fell 10-6 as the Tigers avenged last year's loss to the Rocks.
SIGNINGS
The following Trinity seniors have recently committed to continue their athletic careers at the collegiate level:
* Chandler Lichtefeld – Swimming – Emory University
* Charlie Tancula – Soccer – Transylvania University
* Wes Tolsdorf – Tennis – Rhodes College
Additionally, Tre Ivory committed to play basketball for Austin Peay University.
FOOTBALL
Trinity High School, Kentucky's 22-time football state champion, announced its 2014 varsity football schedule. The schedule features games against top-flight competition, with opponents from Kentucky, Indiana, Ohio, Pennsylvania, Tennessee and Florida.
The season kicks off with the annual scrimmage versus Fort Thomas Highlands High School, co-record holder for most football state championships in Kentucky.
The schedule includes the rivalry game against cross-town foe St. Xavier High School. The game annually draws one of the largest crowds for a regular season high school game in America.
Trinity will travel to play Cathedral High School (2013 Indiana state champs), Archbishop Moeller High School (2013 Ohio state champs), Ensworth High School (2013 Tennessee state champs) and Colerain High School (Ohio). Carmel High School (Ind.), led by former Trinity head coach Kevin Wright, will visit Trinity.
New opponents coming to Marshall Stadium in 2014 are Cocoa High School from Florida and Imhotep Charter High School from Pennsylvania.
Along with St. Xavier, other district opponents are duPont Manual High School and Louisville Male High School. The Rocks play at Manual and host Male.
Director of Athletics Dennis Lampley said, "This schedule is exciting and challenging. We expect our coaches and players to be prepared for each game, work hard and improve. Athletics are an integral part of the overall mission of the school."
Head coach Bob Beatty said, "Our players have been working very hard this off-season. A schedule like this is great motivation to get better. Our fans will see us play great teams each week."
The Shamrocks will field nearly 100 seniors and juniors; many of them completed an undefeated junior varsity schedule against almost all of last year's varsity opponents. The freshman team lost one game last season and is seeing a large number of its players joining the varsity program.
Ten-game schedules for both the freshman and junior varsity squads are nearing completion.
2014 Varsity Football Schedule
August 15……..Highlands High School (scrimmage) Highland Heights, Ky.
August 22…….. Ensworth High School (Tenn.) Nashville, Tenn.
August 29……..Carmel High School  (Ind.) at Marshall Stadium
September 5…….. Imhotep Charter Academy (Pa.) at Marshall Stadium
September 12…….. Colerain High School (Ohio) Cincinnati, Ohio
September 19…….. Cocoa High School (Fla.) at Marshall Stadium
September 26…….. Cathedral High School (Ind.) Indianapolis, Ind.
October 3…….. St. Xavier High School at Papa John's Cardinal Stadium
October 10…….. duPont Manual High School at Manual Stadium
October 17…….. Louisville Male High School at Marshall Stadium
October 24…….. OPEN DATE
October 31…….. Archbishop Moeller High School (Ohio) Cincinnati, Ohio
Sophomore overall MVP at football combine
Trinity sophomore Jake Woosley won the Overall MVP award for 10th-graders at the National Underclassmen Combine (NUC) Midwest event, which was held in Indianapolis, Ind., April 13. NUC is the longest running underclassmen event and the most respected high school combine and football camp in the country. The combine is for skill players such as quarterbacks, running backs, wide receivers, tight ends, defensive backs and linebackers. Offensive and defensive linemen are included as well.
The athletes go through testing in the 40-yard dash, shuttle run, vertical jump, broad jump and bench press. They also have specific position skill evaluations in their specific positions for 30 minutes and then 30 minutes of one-on-ones, followed by a 10-minute showcase where the best go against the best.
UPCOMING ATHLETIC EVENTS
Baseball
Tuesday, May 20 – Trinity vs. Seneca at Seneca (27th District Tournament), 5 p.m.
Track & Field
Saturday, May 24 – State Meet at University of Kentucky, 4:30 p.m.