Rocks-Mercy archery team finishes Catholic-school best in Region 6 — Letterle tops all region competitors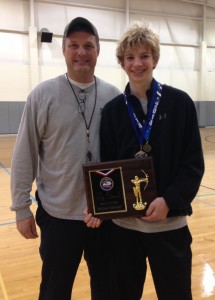 The combined Trinity-Mercy team is new and has not had much practice time. But that did not prevent a sixth out of 14 teams in Region 6. The team's finish was the highest among Catholic high schools at regionals. The team has a chance to advance to state as a team.
Trinity freshman Patrick Letterle placed first overall in the high school boys division (out of 121 boys) with a score of 283. He also placed first overall in Region 6 for boys, with 506 boys competing.
Letterle placed first out of 941 total archers, defeating all the girls in the competition as well and advancing to state.  Letterle scored 17 10s — or bullseyes.
Trinity's Nicholas Mullins placed 10th with a 267, Adam Ballinger placed 14th (265), and Nicholas DeVore (259), all sophomores, rounded out the top four archers.
Letterle will shoot next on Mar. 17. His shoot time will be between 4 and 6 p.m. Details about a possible team appearance at the state event will be announced soon.
Letterle's mother, Barb, provided some background for her son's journey into archery: "Patrick started archery in the fourth grade at Saint Mary Academy when he was asked to fill in for his older brother, Andy, at the Regional Archery Tournament; Andy had to compete in Governor's Cup that day and couldn't shoot.  The archery team advanced to state competition that year, and they allowed both Letterle brothers to remain part of the state team."
During his time at Saint Mary Academy, Letterle's teams made it to the world competition, where they competed in Orlando, Fla., and St. Louis. Barb said, "His best score to date was at the national competition last May, where he shot a 285."